Description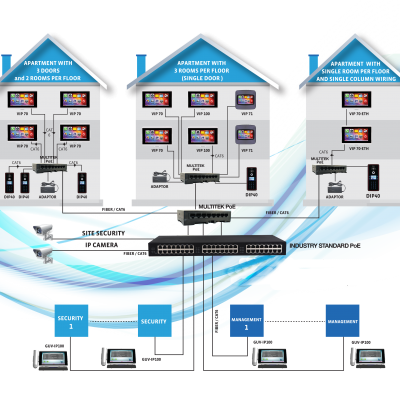 The IP INTERCOM consist of four different types of devices connected using CAT6 cable. The devices include:
Room Monitor (VIP70)
Door Panel (IP INTERCOM)
PoE switch
Power Adaptor
The PoE switch connects and powers all the devices that are connected using the CAT6 cable. The IP system can be expanded to any number of rooms, as long as the required number of PoE switches are installed.
IP systems do not require any video distributors or amplifiers. All rooms have HD video and clear voice quality. (Voice and video quality are same for all devices.)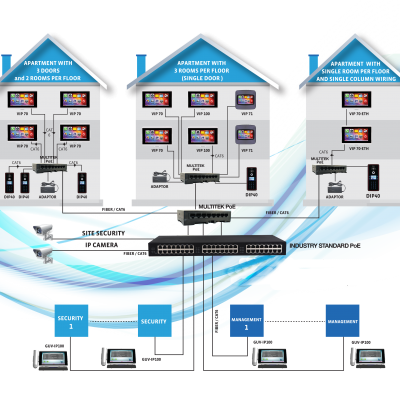 The basic connection between apartment blocks
Door Panels, monitors, PoE switches and adapters are mounted to all blocks apartment blocks. If the distance between the blocks of apartments is less than 70 meters, the apartments can be connected with underground CAT6 cabling. The guard points in the site are equipped with the 10″ guard station. If the main entrances of the site have IP cameras they are connected to the IP intercom network so the rooms can monitor the entrance points.
Unlimited number of: room monitors, door panels, indoor panels, elevators, door keepers, guards, guard cameras etc. are connected to a PoE switch and are all powered via PoE.
IP INTERCOM SYSTEM
Unlimited number of devices are connected together with a PoE switch(s). CAT6 cable used may be maximum 70 meter long. For longer distances, another switch or fiber should be used
There can be up to 1000 units in the building (or more by special request)
Unlimited number of room monitors may talk each other with video and audio conversation
The picture memory of the monitor records 1000 calls from the doorpanel(s)
Password or proximity/NFC card door release
RFiD Touch card access to building
The rooms may give an order (eg. Call a taxi) by touching an icon on the screen (concierge feature)
The main enterence door is opened by Key-Less entry (entering a password) or using a RFiD proximity card or by the room monitor.
Any IP cameras connected to the same network may be monitored on the room monitors
System sofware is upgraded via SD card or a PC or through internet
The unit measures W 140mm H 370mm D 14mm (including LED light frame/surround W 172mm H 403mm D 199mm)
Operating temperature -20 to +55 C
Choice of White or Black unit
Programable key colours, choose from seven colours
Operation voltage & current 12 – 18 VDC (PoE, 500mA maximum current)