"All for one and one for all…
telephone devices"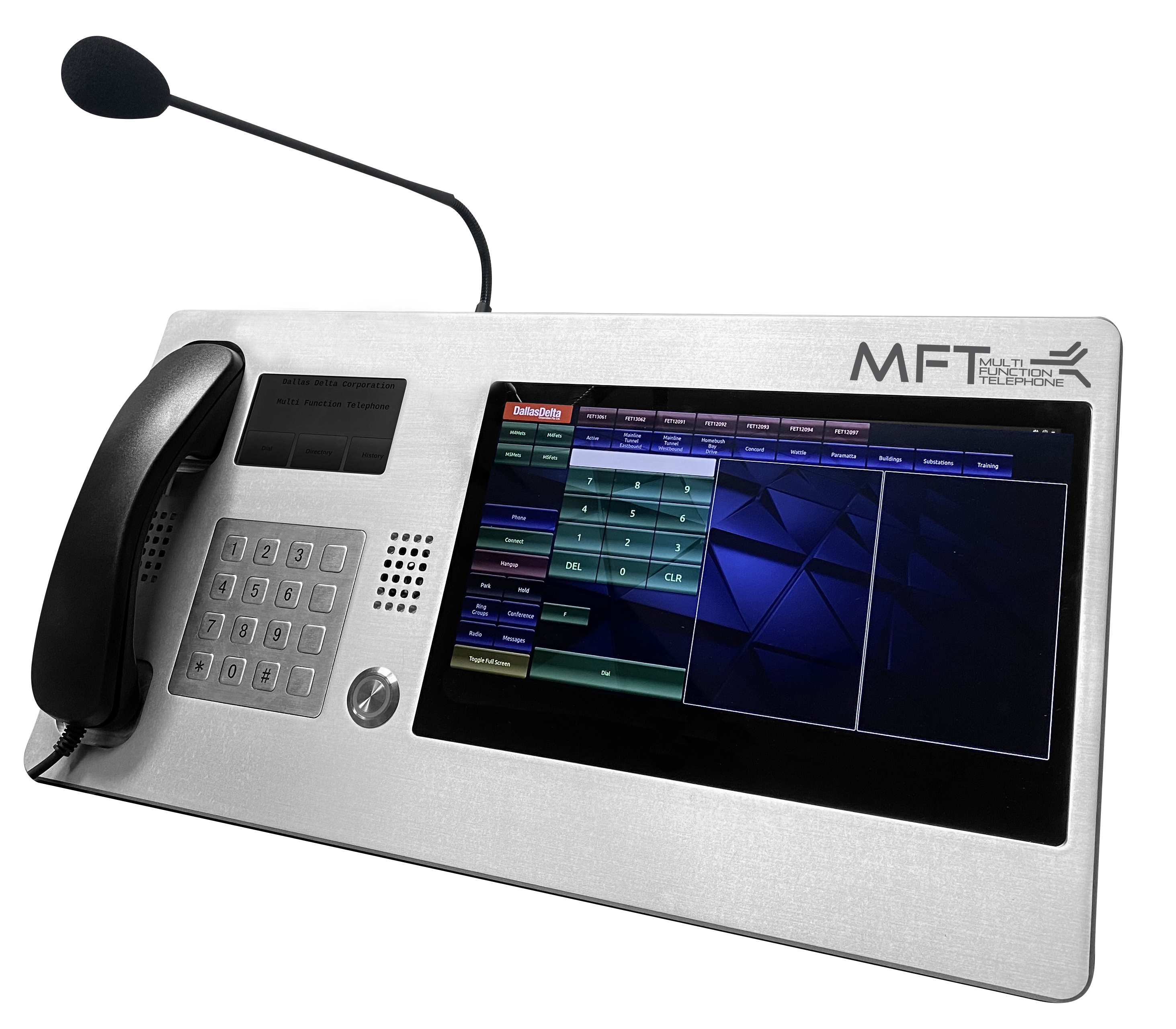 the mft COMBINES a MASTER TELEPHONE, PUBLIC ANNOUNCEMENT SYSTEM CONTROLLER & GUI TO CONNECT TO TELEPHONES ACROSS A LARGE SCALE NETWORK.
Designed to integrate with network systems and devices. The MFT is used everyday in busy control room locations across Australia and connecting with the large scale telephone infrastructure environments. 
TOUGH BY DESIGN
Made from rugged cast Aluminium and Stainless Steel with a heavy anodised finish on the enclosure. Buttons
, Keypad & Connection points are rugged vandal resistant stainless steel and have high MTBF ratings. 
POE INDEPENDENT SYSTEMS
The MFT is powered from a PoE switch. Each individual function i.e. Master Phone, Public Announcement System (PA) and Graphical User Interface (GUI) connects individually to the PoE switch. The Master Phone PA and GUI hardware are independent and in the case of a hardware failure and won't affect the other internal systems, which is an internal hardware redundancy.
tELEPHONE
To manage voice communication systems use the handset, headset or loudspeaker. Includes standard numerical keypad, 4″ phone LCD screen.

(PA) PUBLIC ANOUNCEMENT SYSTEM
The Goose neck 
microphone is noise cancelling, electret microphone which is designed to eliminate background noise. 
Break-in functionality used to broadcast live announcements from the workstations; the telephone will have a gooseneck microphone, PTT button and a speaker with the purpose of transmitting and monitoring pre-recorded messages or live announcements to be broadcasted.
Monitoring functionality (PA&RRB live announcement and messages broadcasting) from the workstations.
GUI
Manage and interact with PABX systems and devices on large networks using the 13″ LCD touchscreen. Select a listed telephone device on the network and call or answer an incoming call. 
Dimensions: H 270 mm x W 515 mm x D 60 mm
Material: 
Milled aluminium, Stainless Steel & Plastic
FEATURES
Rugged telephone handset
Push
 to 
talk interactive PA, with Noise cancelling Goose neck 
microphone 
Stainless steel Keypad, Buttons & connection points 
High quality internal loud speakers
13″ Interactive GUI touch
screen display
4″ Interactive Telephone display
Headset
 connectivity